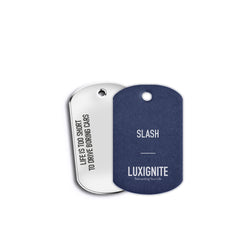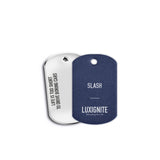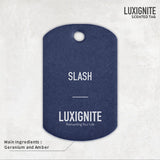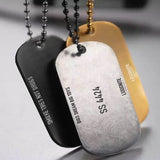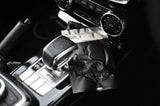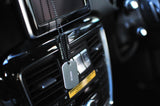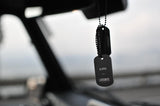 Luxingite 專為汽車室內設計香薰貼,有效消臭汽車異味 每款附效軍事鐵牌一個  每個鐵牌上均有刻上句子 免費訂上車牌  現在優惠中 買一套送三款香味 | 香味持久 每個香貼均獨立抽真空包裝 打開後香味持久30天  即一套三個可用90天
The Scented car tag gently fills the air of your car or your favorite spaces, vacuum packed with an invigorating, floral lily fragrance with a sour twist.
PAYMENT
We accepts Visa, MasterCard and American Express.  We use PayPal and Stripe to process payments on our site.  You are not required to have a PayPal account to process an order.
When you place an order with PayPal, you will be redirected to the PayPal payment page, where you can confirm your payment by logging in with your PayPal username and password.
You may still check out even without a PayPal account. To do so, please click on "Pay with Debit/Credit Card" and you'll be redirected to a secure page where you can enter your credit card information and complete your payment safely via PayPal.
By placing an order using one of the above Credit card and online payment methods, you confirm that the Credit(s) or PayPal account used is yours or that you have been authorized by the owner to use it. If your card issuer refuses to authorize payment to Adlib International Trading Limited, we will not be liable for any delay or non-delivery.
CURRENCY
Prices will be listed in Hong Kong Dollars (HKD).  A currency converter on the top right toolbar of our site can display the following currencies HKD, TWD, CNY, USD, EUR, AUD as a REFERENCE ONLY, based on exchange rates that are updated daily.  
All orders will be processed in Hong Kong Dollars (HKD) when you check out.  When paying using a non-HKD based credit card, exchange rate charges may be incurred. For exact charges, please contact your respective credit card issuer.
We offer FREE Standard shipping worldwide with purchase over USD35. For orders below USD35 , it will be charged with USD5 shipping fee. 
Standard and Expedited Delivery
For standard shipping, orders will be delivered by the national postal service of the destination country. For shipping outside Hong Kong , you might be required to sign on the package to receive the item.
For expedited shipping, orders will be shipped using various delivery services, depending on the destination. The shipping fee may varies by destination and the size of your order. Shipping fees and the service provider will be shown upon checkout.
Do you ship internationally?

Yes, we offer worldwide shipping!

How long does it take before my order gets shipped?

We are aiming to have your order dispatched from our Office within 3-7 business days. However, please bear with us in case we are spending extra time in checking / perfecting your items, particularly during the peak season around end of the year.

Furthermore, there will be chances that the item that you ordered may run out of stock though we are doing our best to avoid this from happening. We will definitely try to get you notified as soon as possible if that happens.

You may on and off notice during checkout that the estimated delivery time is exceptionally long. This could be due to that some products are currently having nil inventory and restock of the goods is in progress.

Please contact our customer service team if there is any question concerning the time to dispatch.
After the goods are dispatched, how long does for standard shipping to deliver the package?

The estimated delivery time displayed on the checkout page includes the preparation time to dispatch and also the shipping time altogether. The delivery time will vary a lot from country to country. In short, the shipping time alone could be around,

For HK orders:
1-3 business days
         For US/Other orders:
         7-24 business days
         For Aisa orders:
         5-14 business days
Delivery time is not guaranteed for Standard Shipping as there are lot of factor affecting its speed and thus we would suggest Express Shipping if there is a date that you would like to meet. The above are estimated time required by the postal service and does not include the processing time of the Customs in the destination country. In some cases the local Customs office of your country may require additional documents and time to have your package cleared, and this may also cause further delay on the delivery.
Ok, what about the delivery time of express shipping?

For the majority countries in the world, Express shipping will deliver the package to you within 5-7 business days from the date of shipment. There are occasions that the delivery may take a bit longer. Thus, please refer to the estimation that is displayed on the tracking page of the courier service, for which the URL to that page could be found on the email that our system sends you after the package is shipped.

How can I check my order status?

Sign in to your Account (the one that you made your order with) and click on "Track Order". In some instances, carrier's tracking information may only be available in 1-2 business days after the order is shipped.

Will my package be delivered to my house or to the post office for me to pick it up?

Your package will arrive at your house. There may be exceptions that door-to-door delivery service is not provided in particular cities / areas / countries, though this is rare.

Particularly, if you are choosing the expedited option "DHL Express Worldwide", our courier partner will offer a flexibility to update the delivery address or make special arrangement with the delivery, such as,

Schedule the delivery on a specific date nominated by you or put the delivery on hold until you are back to the country
Release the package from signature or leave the package with your neighbour
Arrange to redirect the item to an alternate address or yours or a DHL service point

This On Demand Delivery (ODD) service is offered for free by DHL Express, and you can find out if the service is available in your country on

 

ondemand.dhl.com.

When will you ship my order?

Orders placed using our standard shipping will be processed within 2 business days.

Please allow

 

extra time

 

for your order to be processed during

 

public holidays and busy periods. Customs and Postal Service may also require extra time to work on the processing / delivery during peak season or before major festivals (e.g., Valentine's Day). For details on public holidays in the destination country, please refer to the local government website. Please also note that delays may occur as a result of pending payment authorizations.

Why do I have to pay the standard shipping fee for my order?

Free standard shipping is applicable only to orders with total value (after discount) over USD 25 under normal circumstances, and a flat shipping fee will be required otherwise. Please also note that shipping fee is non-refundable.
HONG KONG / MACAU SHIPPING
All Hong Kong / Macau orders are shipped with tracking information via SF Express and Hong Kong Post Office .  Orders will be processed within 3 working days after your payment is approved and the parcel will be delivered within 1-4 working days. 
Import Taxes & Duties
Some countries outside the United States may require import tax, duties and related Customs fees for the imports, and the cost is not covered in payments you made to us. These charges, if applicable, are determined and charged by the Customs office of the destination country. For further details of charges, please contact your local Customs office directly.
SHIPPING STATUS
You will receive an email informing you that your order has been shipped with the tracking number of your parcel.  It is the customer's responsibility to track their order once it has been dispatched.  However, we are more than happy to provide assistance if needed, please contact us at hcs@luxignite.com .
LOST / RETURN PACKAGES
We are not responsible for any lost or stolen packages once it has been shipped from our facility. Orders are sent to the exact address given to us for shipping. We are not responsible for the cost of lost or returned packages due to an incorrect address given by the customer or unclaimed packages during order processing.
INFORMATION CHANGES
Please make sure your order and shipping information is correct.  If you would like to change any information of your order (contact, shipping address or item purchased), please contact us at hcs@luxignite.com as soon as possible.  Once the parcel has been shipped, any changes of the shipping information are subject to the extra fee charged by Hong Kong Post / SF Express.
ITEM AVAILABILITY
In most cases, when an item displayed on our website is no longer available, there will be a SOLD OUT icon or message indicated on the product.  In some cases, however, due to inventory fluctuation, items that appear to be available when you place your order may, in fact, be out of stock. If this happens, we will notify you as quickly as possible that your order cannot be fulfilled. That item will be cancelled from your order, and you will not be charged for that item as a refund will be occurred.
CUSTOMS INFORMATION
Your order may be subject to customs clearance procedures, which can cause delays beyond our original delivery estimates. You may also be subject to import duties and taxes, which are assessed once a shipment reaches your country. You are responsible for any custom clearance charges. Please refer to your local customs authority for more information. The transaction may be cancelled if you reject to pay the custom clearance charges and a full refund will be occurred in this case.